Network Approach

Our Approach 
Hope From Above Inc. (HFA) is unique in its organisational structure. Rather than operating as an international organisation, we network and partner with local organisations abroad, who are united in the vision of HFA.
We see these local organisations as experts in their fields with a good understanding of the local culture, customs and needs. While we can use our expertise in aviation and technology to assist such partner organisations to reach the inaccessible people groups in their area,  they help us in turn with their local infrastructure and knowledge. This saves resources and time, making our combined effort efficient. We have seen in the last few years that these 'win-win' situations have been very effective.We have two different types of relationships with organisations:
HFA creates partnerships with independent mission organisations, churches or ministries, that have compatible goals with those of HFA. Such partnerships are being formed to accomplish defined goals together.
Membership status in the HFA Network is awarded to independent organisations who fully share our vision and purpose, and therefore operate as sister organisations. HFA Network organisations are independently governed in their local countries, but united by the same values and principles which have been contextualised to match with their local regulations, language and culture.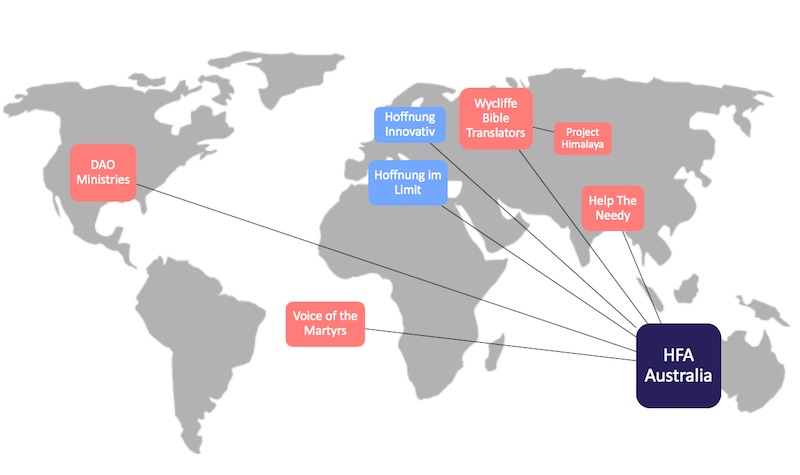 Partner Organisations
Please note that due to nature of our work, and the safety of our partners, we often can't disclose specific names or locations of our partner organisations.

Voice of the Martyrs
Voice of the Martyrs are involved in delivering bibles to closed nations, and we are able to assist them with technology to increase their effectiveness. Below is an encouraging report from VOM on our work.
"We've worked with Hope From Above over the past year to develop and deploy technology needed to help distribute over 30,000 Bibles to one of the most difficult places on the planet.  In order to distribute these Bibles, we first needed research on a full range of data – atmospheric conditions, GPS technology, precise weight measurements and the examination of the results from extensive field testing. Through their efforts, we have been able to distribute more Bibles in 2015 than we have ever done in previous years.  It is not an overstatement to say that their work has changed everything for us.  They have introduced us to technology that we wouldn't have been able to find or develop on our own.  We've not only found their work to be excellent, but we've also been impressed with their integrity.  This has been extremely important to us as much of the work we do is very sensitive and requires a great deal of security and confidentiality."
– Voice of the Martyrs (Sep 2015)
In partnership with Wycliffe Bible Translators, we have staff members working in the Himalaya region. These staff members are involved in utilising aviation and technology for literature transports in the restricted region.
DAO (Desiring Advancement Overseas) Ministries is based in the United States. With a common aim to raise awareness about the unreached and isolated people groups in our world, DAO Ministries also represents HFA in the US on speaking tours.
Find out more at www.daoministries.org

Help The Needy Mission
Help The Needy Mission is an organisation based in India. One of their primary activities is prayer meetings, and they have committed to praying for HFA and the plight of the unreached as an organisation. This is an unique and valuable partnership, as we know that without prayer our work is futile.

Network Organisations

Hoffnung im Limit (HiL)
HiL is based in Switzerland, and is a HFA Network organisation. With a common aim to raise awareness about the unreached and isolated people groups, HiL represents HFA in Switzerland.
For more information check out their website http://h-i-l.org

Hoffnung Innovativ (Hin)
Hin is based in Germany, and is a HFA Network organisation. With a common aim to raise awareness about the unreached and isolated people groups, Hin represents HFA in Germany.
For more information check out their website http://hoffnung-innovativ.de