Prayer Update

June 25, 2020
Thank you for praying for HFA! Our God's invitation to the heavenly wedding feast is for people from every land and island, and we're on a mission to make sure it gets to them!
Below you will find some of our recent prayer requests.
"Sing to the LORD a new song, his praise from the ends of the earth, you who go down to the sea, and all that is in it, you islands, and all who live in them." Isaiah 42:10
---
Praise Points
Praise the Lord of the whole earth for his far-reaching kingdom – anyone can enter it from right where they are.
Praise God for his protection and building of HFA. We're very grateful to be able to develop technologies for mission that may have much more potential than we previously imagined.
Praise God for continued progress on the waterdrone!
We are also thankful for a good Board meeting and a lot of activities ahead for the new financial year. Exciting times!
Prayer Points
Please pray for our partners in Asia, some of whom are now facing much greater difficulties in their work, including threats and opposition from law enforcement authorities. Pray that they would be able to creatively and fearlessly continue their ministry.
Please pray for our staff and future growth.
Pray that it will not be long before we can use the waterdrone to send Bibles.
Pray for wisdom as we research some challenging ministry opportunities ahead.
Thought for the day
When you feel like God can't use you, remember that…
Adam had never done anything before
Sarah was too old
Josiah was too young
Gideon was a nobody
Esther was a celebrity
Paul was on the wrong side
the Samaritan woman had a troubled past
God can use you no matter what!
Unreached People
This category is a tool to raise awareness and pray for the unreached. Please note that HFA is not necessarily involved in reaching the people groups mentioned in this section.
Kangean in Indonesia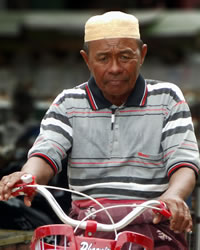 Type of isolation: GEOGRAPHICAL
About 124,000 people live on the 60 islands of the Kangean island cluster in Indonesia. 2-wheeled forms of transportation such as bicycles and motorbikes are the main way to get around, and trips to buy goods from other islands can take more than 18 hours one way. Islam mixed with animism is the main belief system in the islands. Increasing connection with the main islands of Indonesia is reducing linguistic and cultural barriers, but access to the gospel remains very low.
Pray that newcomers to the Kangean islands will bring the gospel with them.
Pray for the Kangean people to feel connected with rather than isolated from God's promise of care.
For more information, visit: Joshua Project page for Kangean people group
---
Thank you for your ongoing prayers for HFA! We would love to hear from you if the Lord gives words of wisdom in response to these prayer requests. If you have any questions or comments, we can be contacted via the details on the 'Contact Us' main page.